Joy To The World?
I sighed as I turned off the news broadcast. More gloom and doom. Same as yesterday, and the day before, and the day before that, and…
Here we are, only a few weeks till Christmas. I've been reading the Christmas story in my Bible, beginning with Matthew 1 and 2. Now I'm reading Luke 2, and my mind is troubled. I keep rereading the passage, but there's a nagging thought I just can't shake.
We have the shepherds, watching their flocks by night. They are the lowest of the low, looked down upon by their fellow Jews. They are the most unlikely recipients of an important message from God.
And yet that's exactly what happens. An angel appears to them, a messenger of God, with a birth announcement that has been waited for, not for nine months but for hundreds of years. Good news of great joy for all the people– a Savior has been born to you!
And then we get to verses 13 and 14: "Suddenly a great company of the heavenly host appeared with the angel, praising God and saying, "Glory to God in the highest heaven, and on earth peace to those on whom his favor rests." The King James Version says, "Peace on earth, goodwill toward men."
Peace On Earth?
"Peace on earth"…really? I just watched the news– no peace on earth there. In fact, it seems there's just as much fear and anxiety, war and death as there was in the Roman days those shepherds lived in. Nothing much has changed, or so it seems.
So what's going on here? Where's this "peace on earth?" Were the angels lying? Are angels even capable of lying? I don't think so.
Maybe we need to look more closely at the word "peace." If you ask most people what the word means, they would say no conflict or violence, or the end of all war, or something like that. And they'd be right.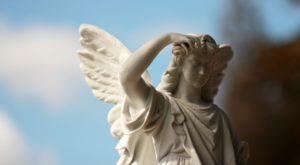 Except…
The angels didn't say the word "peace." They weren't speaking to Americans– they were speaking to Jewish shepherds, Israelites, and so they spoke the language they would understand, Hebrew.
The angels didn't say "peace"…they said "Shalom."
And the meaning of the word shalom is where we find our answer.
Shalom = Peace, And More!
"In the Old Testament, the peace of God is expressed in the Hebrew word shalom," explains Dr. John Koessler, chairman of the pastoral studies department at Moody Bible Institute. "We usually think of peace as the absence of war or ending of conflict, but the biblical idea is more comprehensive. Biblical peace is primarily relational, grounded in God."
Read that last sentence again. "Biblical peace is primarily relational, grounded in God."
So shalom— peace– is not the absence of war. Peace is the presence of God.
The prophet Isaiah, speaking of the coming Messiah, had prophesied, "For to us a child is born, to us a son is given, and the government will be on his shoulders. And he will be called Wonderful Counselor, Mighty God, Everlasting Father, Prince of Peace" (Isaiah 9:6).
Prince of Peace…Prince of Shalom. The angels were correct in saying "peace on earth," for the baby in the manger was the Prince of Peace, the Son of God, born on earth. The birth of Jesus brought to all mankind the opportunity to be born again, to have an intimate, personal relationship with Almighty God.
But there's more. Well-known author and pastor Timothy Keller writes, "Shalom experienced is multidimensional, complete well-being — physical, psychological, social, and spiritual; it flows from all of one's relationships being put right– with God, with(in) oneself, and with others."
John Hershey of the Fellowship of Israel Related Ministries, explains it this way: "True biblical shalom means an inward sense of completeness or wholeness. Although it can describe the absence of war, a majority of biblical references refer to an inner completeness and tranquility."
The Gospel Of Peace
Think of it.
Through Jesus, we have peace with God– forgiven of sin, free from guilt and shame.
Through Jesus, we have peace with ourselves– knowing our identity in Christ enables us to live the life our Creator intended.
Through Jesus, we have peace with others– by obeying His commands to "Love your neighbor as yourself" (Matthew 22:39) and "Love one another as I have loved you" (John 15:12).
To say shalom is to speak blessing to others. When the angels said "Shalom" to the shepherds, I believe it changed their lives forever. Just look at their response: "When the angels had left them and gone into heaven, the shepherds said to one another, "Let's go to Bethlehem and see this thing that has happened, which the Lord has told us about." So they hurried off and found Mary and Joseph, and the baby, who was lying in the manger. When they had seen him, they spread the word concerning what had been told them about this child, and all who heard it were amazed at what the shepherds said to them" (Luke 2:15-18).
Peace on earth? Absolutely!
Those shepherds became the first evangelists, sharing the gospel of peace!
May we also do the same, this Christmas and always. Shalom!
Has this article blessed you? Share and subscribe!
Related Posts:
"The Promise of Emmanuel" http://www.livingthetransformedlife.com/the-promise-of-emmanuel
"Hope For The Heart" http://www.livingthetransformedlife.com/hope-for-the-heart