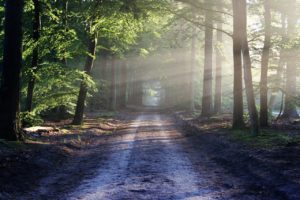 My wife and I recently purchased a plot at a local cemetery. We're in no hurry to move in, of course. It's just a practical bit of advance preparation.
We only needed one plot for both of us since we plan to be cremated. Because of the cost savings, that appears to be the wave of the future. The friendly groundskeeper at the cemetery told us that about 75% of their burials are now cremations.
This was not the practice in Bible days, though. The Jews had very particular burial customs that were strictly adhered to.
Burial in Bible Days
When a person died, the eyes would be closed and the body would be washed and anointed with perfumes of nard, myrrh, or aloes. The body would then be tightly wrapped in a linen burial shroud. The hands and feet would be securely tied with strips of fabric, and the face would be covered with a special veil called a sudarium.
Family and friends would gather to say their final farewells, and then the body would be carried on a litter to the gravesite. People would take turns carrying the litter as a demonstration of their love for the deceased. There would be both wailing and music; wealthy families would even hire paid mourners to assist in the procession.
All of this would be a rather hasty procedure. Because of the hot climate, burial usually occurred within eight hours of death. Tombs were either natural caves or chambers excavated in the rock. A large stone would be rolled over the entrance. Later this would often be whitewashed to signify that this was a burial site, since Jews would be ritually unclean if they came in close contact with a dead body. The burial would be followed by a brief meal and a period of mourning lasting thirty days.
This was the situation facing Jesus after the death of his friend Lazarus. It's a familiar story, and I know you've probably heard many sermons preached on it. It is definitely one of the most dramatic moments in the ministry of Jesus.
And yet there is one small intriguing detail right at the end that most people miss. It's easy to overlook, but I believe God had a very specific reason for including it.
Out From The Grave Like Lazarus
We'll pick up the story midway, after Lazarus has already died and been buried: "On his arrival, Jesus found that Lazarus had already been in the tomb for four days. Now Bethany was less than two miles from Jerusalem, and many Jews had come to Mary and Martha to comfort them in the loss of their brother" (John 11:17-19). Jesus arrives to find the whole community in mourning; Lazarus and his sisters were well known. Jesus had visited their home many times prior to this.
When Martha hears of His arrival, she hurries to meet Him. During their conversation, Jesus informs her that her brother will rise again, and then He makes a startling declaration: "I am the resurrection and the life. The one who believes in me will live, even though they die; and whoever lives by believing in me will never die" (John 11:25-26).
I find it interesting that Martha is the one who is given this revelation. Prior to this, it had been Mary sitting at Jesus' feet listening, while Martha bustled about in distracted service. Now it is Martha who is listening, and what she hears is an astounding promise. Now fully focused, Martha hurries to bring Mary to Him. "When Mary reached the place where Jesus was and saw him, she fell at his feet and said, "Lord, if you had been here, my brother would not have died." When Jesus saw her weeping, and the Jews who had come along with her also weeping, he was deeply moved in spirit and troubled. "Where have you laid him?" he asked. "Come and see, Lord," they replied. Jesus wept. Then the Jews said, "See how he loved him!" But some of them said, "Could not he who opened the eyes of the blind man have kept this man from dying?" (John 11:32-37).
Now we come to the part of the story that everyone remembers– and the little detail that most miss: "Jesus, once more deeply moved, came to the tomb. It was a cave with a stone laid across the entrance. "Take away the stone," he said. "But, Lord," said Mary, the sister of the dead man, "by this time there is a bad odor, for he has been there four days." Then Jesus said, "Did I not tell you that if you believe,you will see the glory of God?" So they took away the stone. Then Jesus looked up and said, "Father, I thank you that you have heard me. I knew that you always hear me, but I said this for the benefit of the people standing here, that they may believe that you have sent me."
When he had said this, Jesus called in a loud voice, "Lazarus, come out!" The dead man came out, his hands and feet wrapped with strips of linen, and a cloth around his face. Jesus said to them, "Take off the grave clothes and let him go." Therefore many of the Jews who had come to visit Mary, and had seen what Jesus did, believed in him" (John 11:38-45).
Words cannot describe the shock of those present and the enormity of the miracle they witnessed. Talk about a "preview of coming attractions!" The resurrection of Lazarus is truly stunning.
One Little Detail
John's description of Lazarus when he came out of his tomb clearly confirms that the traditional Jewish burial customs had been followed. Take another look at the beginning of verse 44: "The dead man came out, his hands and feet wrapped with strips of linen, and a cloth around his face" (emphasis added).
Think about it. Lazarus didn't walk out of the tomb– he hobbled. His hands and feet were tied. The shroud was still tightly wrapped around him. His mobility was limited. The sudarium still covered his face, obscuring his vision. Lazarus was alive— but he wasn't free. He couldn't move forward much, and he couldn't see clearly.
Lazarus was still bound.
Look at the rest of verse 44: Jesus said to them, "Take off the grave clothes and let him go" (John 11:44).
The King James Version says "Loose him." The Revised Standard Version says "Unbind him." Get the picture?
Jesus raised Lazarus from the dead. Lazarus had new life! But…he wasn't free. There were still the grave clothes, things from the past that held him back.
What does Jesus do?
He doesn't remove the grave clothes.
Jesus turns to His disciples– and tells them to take the grave clothes off.
Why?
I believe there is something very significant here.
Is Something Binding You?
When I look at Lazarus, I see myself. I was saved in 1973, at the height of the Jesus People movement. I confessed my sin and asked Jesus to be my Savior, and I received new life. In Christ, I was "a new creation" (II Corinthians 5:17).
Yes, I was born again. Yes, I was a Christian. Jesus had saved me!
But I still had "junk in the trunk," all sorts of hurts from the past. I was still bound by many things.
Because of my own ignorance, Satan's deceptions, and even some unbalanced teaching I received as a young Christian, my road to healing and wholeness was a long one. It took many years of counseling and prayer with several pastors and therapists. It was a lengthy and sometimes painful process. Yes, God did the healing– but He used many people in my life to help me get where I am now.
I think that's the message of John 11:44. New life in Christ gives you a new beginning– but it doesn't give you instant perfection. The grave clothes have to be removed, and you can't do that on your own. But God will lead you to the right people at the right times in your life who can help you in the healing process. It may be a trusted friend, a pastor, a therapist, a Christian support group (in my case, it was all of the above).
Lazarus wasn't alone– and neither are you. If there's something you need help with, don't be afraid to reach out. God doesn't expect you to do it all on your own. New life in Christ is only the beginning!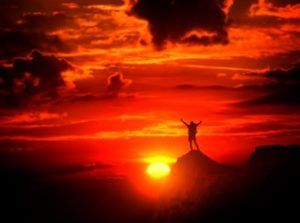 The Christian group Cain puts it well in their song "Rise Up":
He's calling us to walk out of the dark,
He's giving us new resurrected hearts…
Come on and rise up, take a breath, you're alive now,
Can't you hear the voice of Jesus calling us
Out from the grave like Lazarus?
"Being confident of this, that he who began a good work in you will carry it on to completion until the day of Christ Jesus" (Philippians 1:6).
Get the help you need, and get the grave clothes off!
If you need some inspiration, you can listen to Cain's full song here:

https://www.youtube.com/watch?v=B87p2WHry9Y
RELATED POST:
"I Sat In Darkness" http://www.livingthetransformedlife.com/i-sat-in-darkness
Did this bless you? Share the love on social media– and remember to SUBSCRIBE!